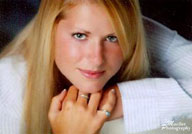 Sarah Mullenbach Sportsmanship Award recipient
We are pleased to announce that Miss Christina Debooer was the sportsmanship recipient for 2009. Christina has been very active in the golf community participating in many local and state wide events. She was first team all conference for 4 years and the 2008 player of the year. She will be attending the University of Wisconsin Green Bay whre she will be playing golf and pursuing degrees in biology and business management.
Major Events in 2009
In 2009 the foundation was a sponsor of the Plunge: United La Crosse County to Prevent Underage Drinking. The Plunge was a day long event that hightlighted the problems and consequences of underage drinking. We had 13 presentations in various sites around La Crosse County. These included presentations by: law enforcement, medical staff, Senator Dan Kapanke, and many groups of students. Our keynote speakers were Nathan and Connnie Backstrom who lost 3 sons to a drunk driver. Cece was the chairperson and is very gratful to the Plunge commitee and all who participate. Please continue your efforts to keep our youth safe.
Download a PDF of the Executive Summary.
Special Award
As a consequence of her work as chairperson of the Plunge, bringing Miss Jennifer Berry to the community and other committee work Cece was named Adult prevention volunteer for Wisconsin. I was very humbled and honored to receive this award.